Round Pipe For Aluminum Chain Link Fence
Aluminum Chain Link Fence Round Pipe
As a leading distributor of Solid Aluminum Chain Link Fence, we carry a wide variety of pipes and offer a range of sizes, types and alloys. Available in lengths from 5' up to 32', we have pipes designed for both residential and commercial fencing projects.
Round pipes are more commonly used in chain link fence projects because they are quick and easy to install and have the traditional chain link fence look that will last for years. All of our high-quality, aluminum pipes consist of 6061 Alloy T6 and comply with ASTM B-429 standard requirements. We supply stock schedule 40 Aluminum Round Pipe in diameters ranging from 1 3/8" to 6 5/8" to suit your chain link fence needs.
We offer customized pipe cut to length as well. For questions or more information, feel free to consult with one of our helpful sales representatives toll free at (888) 378-1012, or email Sales@aluminumchainlink.com.
Round Pipe Diagram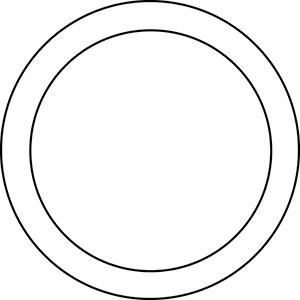 Available Diameters
1 3/8"
1 5/8"
2" (1.90")
2 1/2" (2 3/8")
3" (2 7/8")
4"
6 5/8"
Available Lengths
5'
6'
6'6"
7'
8'
9'
10'
10'6"
11'
12'
13'

14'
15'
16'
17'
18'
19'
20'
21'
24'
30'
32'
1 3/8" OD Schedule 40 Solid Aluminum Pipe (SCH40)
| Outer Diameter | Length | Order # | Description |
| --- | --- | --- | --- |
| 1 3/8" | 5' | ACL-PIPE-138-5L-SCH40 | 1 3/8" OD x 5' Long Schedule 40 Solid Aluminum Pipe (SCH40) |
| 1 3/8" | 6' | ACL-PIPE-138-6L-SCH40 | 1 3/8" OD x 6' Long Schedule 40 Solid Aluminum Pipe (SCH40) |
| 1 3/8" | 6' 6" | ACL-PIPE-138-66L-SCH40 | 1 3/8" OD x 6' 6" Long Schedule 40 Solid Aluminum Pipe (SCH40) |
| 1 3/8" | 7' | ACL-PIPE-138-7L-SCH40 | 1 3/8" OD x 7' Long Schedule 40 Solid Aluminum Pipe (SCH40) |
| 1 3/8" | 8' | ACL-PIPE-138-8L-SCH40 | 1 3/8" OD x 8' Long Schedule 40 Solid Aluminum Pipe (SCH40) |
| 1 3/8" | 9' | ACL-PIPE-138-9L-SCH40 | 1 3/8" OD x 9' Long Schedule 40 Solid Aluminum Pipe (SCH40) |
| 1 3/8" | 10' | ACL-PIPE-138-10L-SCH40 | 1 3/8" OD x 10' Long Schedule 40 Solid Aluminum Pipe (SCH40) |
| 1 3/8" | 10' 6" | ACL-PIPE-138-106L-SCH40 | 1 3/8" OD x 10' 6" Long Schedule 40 Solid Aluminum Pipe (SCH40) |
| 1 3/8" | 11' | ACL-PIPE-138-11L-SCH40 | 1 3/8" OD x 11' Long Schedule 40 Solid Aluminum Pipe (SCH40) |
| 1 3/8" | 12' | ACL-PIPE-138-12L-SCH40 | 1 3/8" OD x 12' Long Schedule 40 Solid Aluminum Pipe (SCH40) |
| 1 3/8" | 13' | ACL-PIPE-138-13L-SCH40 | 1 3/8" OD x 13' Long Schedule 40 Solid Aluminum Pipe (SCH40) |
| 1 3/8" | 14' | ACL-PIPE-138-14L-SCH40 | 1 3/8" OD x 14' Long Schedule 40 Solid Aluminum Pipe (SCH40) |
| 1 3/8" | 15' | ACL-PIPE-138-15L-SCH40 | 1 3/8" OD x 15' Long Schedule 40 Solid Aluminum Pipe (SCH40) |
| 1 3/8" | 16' | ACL-PIPE-138-16L-SCH40 | 1 3/8" OD x 16' Long Schedule 40 Solid Aluminum Pipe (SCH40) |
| 1 3/8" | 17' | ACL-PIPE-138-17L-SCH40 | 1 3/8" OD x 17' Long Schedule 40 Solid Aluminum Pipe (SCH40) |
| 1 3/8" | 18' | ACL-PIPE-138-18L-SCH40 | 1 3/8" OD x 18' Long Schedule 40 Solid Aluminum Pipe (SCH40) |
| 1 3/8" | 19' | ACL-PIPE-138-19L-SCH40 | 1 3/8" OD x 19' Long Schedule 40 Solid Aluminum Pipe (SCH40) |
| 1 3/8" | 20' | ACL-PIPE-138-20L-SCH40 | 1 3/8" OD x 20' Long Schedule 40 Solid Aluminum Pipe (SCH40) |
| 1 3/8" | 21' | ACL-PIPE-138-21L-SCH40 | 1 3/8" OD x 21' Long Schedule 40 Solid Aluminum Pipe (SCH40) |
| 1 3/8" | 24' | ACL-PIPE-138-24L-SCH40 | 1 3/8" OD x 24' Long Schedule 40 Solid Aluminum Pipe (SCH40) |
1 5/8" OD Schedule 40 Solid Aluminum Pipe (SCH40)
| Outer Diameter | Length | Order # | Description |
| --- | --- | --- | --- |
| 1 5/8" | 5' | ACL-PIPE-158-5L-SCH40 | 1 5/8" OD x 5' Long Schedule 40 Solid Aluminum Pipe (SCH40) |
| 1 5/8" | 6' | ACL-PIPE-158-6L-SCH40 | 1 5/8" OD x 6' Long Schedule 40 Solid Aluminum Pipe (SCH40) |
| 1 5/8" | 6' 6" | ACL-PIPE-158-66L-SCH40 | 1 5/8" OD x 6' 6" Long Schedule 40 Solid Aluminum Pipe (SCH40) |
| 1 5/8" | 7' | ACL-PIPE-158-7L-SCH40 | 1 5/8" OD x 7' Long Schedule 40 Solid Aluminum Pipe (SCH40) |
| 1 5/8" | 8' | ACL-PIPE-158-8L-SCH40 | 1 5/8" OD x 8' Long Schedule 40 Solid Aluminum Pipe (SCH40) |
| 1 5/8" | 9' | ACL-PIPE-158-9L-SCH40 | 1 5/8" OD x 9' Long Schedule 40 Solid Aluminum Pipe (SCH40) |
| 1 5/8" | 10' | ACL-PIPE-158-10L-SCH40 | 1 5/8" OD x 10' Long Schedule 40 Solid Aluminum Pipe (SCH40) |
| 1 5/8" | 10' 6" | ACL-PIPE-158-106L-SCH40 | 1 5/8" OD x 10' 6" Long Schedule 40 Solid Aluminum Pipe (SCH40) |
| 1 5/8" | 11' | ACL-PIPE-158-11L-SCH40 | 1 5/8" OD x 11' Long Schedule 40 Solid Aluminum Pipe (SCH40) |
| 1 5/8" | 12' | ACL-PIPE-158-12L-SCH40 | 1 5/8" OD x 12' Long Schedule 40 Solid Aluminum Pipe (SCH40) |
| 1 5/8" | 13' | ACL-PIPE-158-13L-SCH40 | 1 5/8" OD x 13' Long Schedule 40 Solid Aluminum Pipe (SCH40) |
| 1 5/8" | 14' | ACL-PIPE-158-14L-SCH40 | 1 5/8" OD x 14' Long Schedule 40 Solid Aluminum Pipe (SCH40) |
| 1 5/8" | 15' | ACL-PIPE-158-15L-SCH40 | 1 5/8" OD x 15' Long Schedule 40 Solid Aluminum Pipe (SCH40) |
| 1 5/8" | 16' | ACL-PIPE-158-16L-SCH40 | 1 5/8" OD x 16' Long Schedule 40 Solid Aluminum Pipe (SCH40) |
| 1 5/8" | 17' | ACL-PIPE-158-17L-SCH40 | 1 5/8" OD x 17' Long Schedule 40 Solid Aluminum Pipe (SCH40) |
| 1 5/8" | 18' | ACL-PIPE-158-18L-SCH40 | 1 5/8" OD x 18' Long Schedule 40 Solid Aluminum Pipe (SCH40) |
| 1 5/8" | 19' | ACL-PIPE-158-19L-SCH40 | 1 5/8" OD x 19' Long Schedule 40 Solid Aluminum Pipe (SCH40) |
| 1 5/8" | 20' | ACL-PIPE-158-20L-SCH40 | 1 5/8" OD x 20' Long Schedule 40 Solid Aluminum Pipe (SCH40) |
| 1 5/8" | 21' | ACL-PIPE-158-21L-SCH40 | 1 5/8" OD x 21' Long Schedule 40 Solid Aluminum Pipe (SCH40) |
| 1 5/8" | 24' | ACL-PIPE-158-24L-SCH40 | 1 5/8" OD x 24' Long Schedule 40 Solid Aluminum Pipe (SCH40) |
2" (1.90") OD Schedule 40 Solid Aluminum Pipe (SCH40)
| Outer Diameter | Length | Order # | Description |
| --- | --- | --- | --- |
| 2" (1.90") | 5' | ACL-PIPE-2-5L-SCH40 | 2" (1.90") OD x 5' Long Schedule 40 Solid Aluminum Pipe (SCH40) |
| 2" (1.90") | 6' | ACL-PIPE-2-6L-SCH40 | 2" (1.90") OD x 6' Long Schedule 40 Solid Aluminum Pipe (SCH40) |
| 2" (1.90") | 6' 6" | ACL-PIPE-2-66L-SCH40 | 2" (1.90") OD x 6' 6" Long Schedule 40 Solid Aluminum Pipe (SCH40) |
| 2" (1.90") | 7' | ACL-PIPE-2-7L-SCH40 | 2" (1.90") OD x 7' Long Schedule 40 Solid Aluminum Pipe (SCH40) |
| 2" (1.90") | 8' | ACL-PIPE-2-8L-SCH40 | 2" (1.90") OD x 8' Long Schedule 40 Solid Aluminum Pipe (SCH40) |
| 2" (1.90") | 9' | ACL-PIPE-2-9L-SCH40 | 2" (1.90") OD x 9' Long Schedule 40 Solid Aluminum Pipe (SCH40) |
| 2" (1.90") | 10' | ACL-PIPE-2-10L-SCH40 | 2" (1.90") OD x 10' Long Schedule 40 Solid Aluminum Pipe (SCH40) |
| 2" (1.90") | 10' 6" | ACL-PIPE-2-106L-SCH40 | 2" (1.90") OD x 10' 6" Long Schedule 40 Solid Aluminum Pipe (SCH40) |
| 2" (1.90") | 11' | ACL-PIPE-2-11L-SCH40 | 2" (1.90") OD x 11' Long Schedule 40 Solid Aluminum Pipe (SCH40) |
| 2" (1.90") | 12' | ACL-PIPE-2-12L-SCH40 | 2" (1.90") OD x 12' Long Schedule 40 Solid Aluminum Pipe (SCH40) |
| 2" (1.90") | 13' | ACL-PIPE-2-13L-SCH40 | 2" (1.90") OD x 13' Long Schedule 40 Solid Aluminum Pipe (SCH40) |
| 2" (1.90") | 14' | ACL-PIPE-2-14L-SCH40 | 2" (1.90") OD x 14' Long Schedule 40 Solid Aluminum Pipe (SCH40) |
| 2" (1.90") | 15' | ACL-PIPE-2-15L-SCH40 | 2" (1.90") OD x 15' Long Schedule 40 Solid Aluminum Pipe (SCH40) |
| 2" (1.90") | 16' | ACL-PIPE-2-16L-SCH40 | 2" (1.90") OD x 16' Long Schedule 40 Solid Aluminum Pipe (SCH40) |
| 2" (1.90") | 17' | ACL-PIPE-2-17L-SCH40 | 2" (1.90") OD x 17' Long Schedule 40 Solid Aluminum Pipe (SCH40) |
| 2" (1.90") | 18' | ACL-PIPE-2-18L-SCH40 | 2" (1.90") OD x 18' Long Schedule 40 Solid Aluminum Pipe (SCH40) |
| 2" (1.90") | 19' | ACL-PIPE-2-19L-SCH40 | 2" (1.90") OD x 19' Long Schedule 40 Solid Aluminum Pipe (SCH40) |
| 2" (1.90") | 20' | ACL-PIPE-2-20L-SCH40 | 2" (1.90") OD x 20' Long Schedule 40 Solid Aluminum Pipe (SCH40) |
| 2" (1.90") | 21' | ACL-PIPE-2-21L-SCH40 | 2" (1.90") OD x 21' Long Schedule 40 Solid Aluminum Pipe (SCH40) |
| 2" (1.90") | 24' | ACL-PIPE-2-24L-SCH40 | 2" (1.90") OD x 24' Long Schedule 40 Solid Aluminum Pipe (SCH40) |
| 2" (1.90") | 30' | ACL-PIPE-2-30L-SCH40 | 2" (1.90") OD x 30' Long Schedule 40 Solid Aluminum Pipe (SCH40) |
| 2" (1.90") | 32' | ACL-PIPE-2-32L-SCH40 | 2" (1.90") OD x 32' Long Schedule 40 Solid Aluminum Pipe (SCH40) |
2 1/2" (2 3/8") OD Schedule 40 Solid Aluminum Pipe (SCH40)
| Outer Diameter | Length | Order # | Description |
| --- | --- | --- | --- |
| 2 1/2" (2 3/8") | 5' | ACL-PIPE-212-5L-SCH40 | 2 1/2" (2 3/8") OD x 5' Long Schedule 40 Solid Aluminum Pipe (SCH40) |
| 2 1/2" (2 3/8") | 6' | ACL-PIPE-212-6L-SCH40 | 2 1/2" (2 3/8") OD x 6' Long Schedule 40 Solid Aluminum Pipe (SCH40) |
| 2 1/2" (2 3/8") | 6' 6" | ACL-PIPE-212-66L-SCH40 | 2 1/2" (2 3/8") OD x 6' 6" Long Schedule 40 Solid Aluminum Pipe (SCH40) |
| 2 1/2" (2 3/8") | 7' | ACL-PIPE-212-7L-SCH40 | 2 1/2" (2 3/8") OD x 7' Long Schedule 40 Solid Aluminum Pipe (SCH40) |
| 2 1/2" (2 3/8") | 8' | ACL-PIPE-212-8L-SCH40 | 2 1/2" (2 3/8") OD x 8' Long Schedule 40 Solid Aluminum Pipe (SCH40) |
| 2 1/2" (2 3/8") | 9' | ACL-PIPE-212-9L-SCH40 | 2 1/2" (2 3/8") OD x 9' Long Schedule 40 Solid Aluminum Pipe (SCH40) |
| 2 1/2" (2 3/8") | 10' | ACL-PIPE-212-10L-SCH40 | 2 1/2" (2 3/8") OD x 10' Long Schedule 40 Solid Aluminum Pipe (SCH40) |
| 2 1/2" (2 3/8") | 10' 6" | ACL-PIPE-212-106L-SCH40 | 2 1/2" (2 3/8") OD x 10' 6" Long Schedule 40 Solid Aluminum Pipe (SCH40) |
| 2 1/2" (2 3/8") | 11' | ACL-PIPE-212-11L-SCH40 | 2 1/2" (2 3/8") OD x 11' Long Schedule 40 Solid Aluminum Pipe (SCH40) |
| 2 1/2" (2 3/8") | 12' | ACL-PIPE-212-12L-SCH40 | 2 1/2" (2 3/8") OD x 12' Long Schedule 40 Solid Aluminum Pipe (SCH40) |
| 2 1/2" (2 3/8") | 13' | ACL-PIPE-212-13L-SCH40 | 2 1/2" (2 3/8") OD x 13' Long Schedule 40 Solid Aluminum Pipe (SCH40) |
| 2 1/2" (2 3/8") | 14' | ACL-PIPE-212-14L-SCH40 | 2 1/2" (2 3/8") OD x 14' Long Schedule 40 Solid Aluminum Pipe (SCH40) |
| 2 1/2" (2 3/8") | 15' | ACL-PIPE-212-15L-SCH40 | 2 1/2" (2 3/8") OD x 15' Long Schedule 40 Solid Aluminum Pipe (SCH40) |
| 2 1/2" (2 3/8") | 16' | ACL-PIPE-212-16L-SCH40 | 2 1/2" (2 3/8") OD x 16' Long Schedule 40 Solid Aluminum Pipe (SCH40) |
| 2 1/2" (2 3/8") | 17' | ACL-PIPE-212-17L-SCH40 | 2 1/2" (2 3/8") OD x 17' Long Schedule 40 Solid Aluminum Pipe (SCH40) |
| 2 1/2" (2 3/8") | 18' | ACL-PIPE-212-18L-SCH40 | 2 1/2" (2 3/8") OD x 18' Long Schedule 40 Solid Aluminum Pipe (SCH40) |
| 2 1/2" (2 3/8") | 19' | ACL-PIPE-212-19L-SCH40 | 2 1/2" (2 3/8") OD x 19' Long Schedule 40 Solid Aluminum Pipe (SCH40) |
| 2 1/2" (2 3/8") | 20' | ACL-PIPE-212-20L-SCH40 | 2 1/2" (2 3/8") OD x 20' Long Schedule 40 Solid Aluminum Pipe (SCH40) |
| 2 1/2" (2 3/8") | 21' | ACL-PIPE-212-21L-SCH40 | 2 1/2" (2 3/8") OD x 21' Long Schedule 40 Solid Aluminum Pipe (SCH40) |
| 2 1/2" (2 3/8") | 24' | ACL-PIPE-212-24L-SCH40 | 2 1/2" (2 3/8") OD x 24' Long Schedule 40 Solid Aluminum Pipe (SCH40) |
| 2 1/2" (2 3/8") | 30' | ACL-PIPE-212-30L-SCH40 | 2 1/2" (2 3/8") OD x 30' Long Schedule 40 Solid Aluminum Pipe (SCH40) |
| 2 1/2" (2 3/8") | 32' | ACL-PIPE-212-32L-SCH40 | 2 1/2" (2 3/8") OD x 32' Long Schedule 40 Solid Aluminum Pipe (SCH40) |
3" (2 7/8") OD Schedule 40 Solid Aluminum Pipe (SCH40)
| Outer Diameter | Length | Order # | Description |
| --- | --- | --- | --- |
| 3" (2 7/8") | 5' | ACL-PIPE-3-5L-SCH40 | 3" (2 7/8") OD x 5' Long Schedule 40 Solid Aluminum Pipe (SCH40) |
| 3" (2 7/8") | 6' | ACL-PIPE-3-6L-SCH40 | 3" (2 7/8") OD x 6' Long Schedule 40 Solid Aluminum Pipe (SCH40) |
| 3" (2 7/8") | 6' 6" | ACL-PIPE-3-66L-SCH40 | 3" (2 7/8") OD x 6' 6" Long Schedule 40 Solid Aluminum Pipe (SCH40) |
| 3" (2 7/8") | 7' | ACL-PIPE-3-7L-SCH40 | 3" (2 7/8") OD x 7' Long Schedule 40 Solid Aluminum Pipe (SCH40) |
| 3" (2 7/8") | 8' | ACL-PIPE-3-8L-SCH40 | 3" (2 7/8") OD x 8' Long Schedule 40 Solid Aluminum Pipe (SCH40) |
| 3" (2 7/8") | 9' | ACL-PIPE-3-9L-SCH40 | 3" (2 7/8") OD x 9' Long Schedule 40 Solid Aluminum Pipe (SCH40) |
| 3" (2 7/8") | 10' | ACL-PIPE-3-10L-SCH40 | 3" (2 7/8") OD x 10' Long Schedule 40 Solid Aluminum Pipe (SCH40) |
| 3" (2 7/8") | 10' 6" | ACL-PIPE-3-106L-SCH40 | 3" (2 7/8") OD x 10' 6" Long Schedule 40 Solid Aluminum Pipe (SCH40) |
| 3" (2 7/8") | 11' | ACL-PIPE-3-11L-SCH40 | 3" (2 7/8") OD x 11' Long Schedule 40 Solid Aluminum Pipe (SCH40) |
| 3" (2 7/8") | 12' | ACL-PIPE-3-12L-SCH40 | 3" (2 7/8") OD x 12' Long Schedule 40 Solid Aluminum Pipe (SCH40) |
| 3" (2 7/8") | 13' | ACL-PIPE-3-13L-SCH40 | 3" (2 7/8") OD x 13' Long Schedule 40 Solid Aluminum Pipe (SCH40) |
| 3" (2 7/8") | 14' | ACL-PIPE-3-14L-SCH40 | 3" (2 7/8") OD x 14' Long Schedule 40 Solid Aluminum Pipe (SCH40) |
| 3" (2 7/8") | 15' | ACL-PIPE-3-15L-SCH40 | 3" (2 7/8") OD x 15' Long Schedule 40 Solid Aluminum Pipe (SCH40) |
| 3" (2 7/8") | 16' | ACL-PIPE-3-16L-SCH40 | 3" (2 7/8") OD x 16' Long Schedule 40 Solid Aluminum Pipe (SCH40) |
| 3" (2 7/8") | 17' | ACL-PIPE-3-17L-SCH40 | 3" (2 7/8") OD x 17' Long Schedule 40 Solid Aluminum Pipe (SCH40) |
| 3" (2 7/8") | 18' | ACL-PIPE-3-18L-SCH40 | 3" (2 7/8") OD x 18' Long Schedule 40 Solid Aluminum Pipe (SCH40) |
| 3" (2 7/8") | 19' | ACL-PIPE-3-19L-SCH40 | 3" (2 7/8") OD x 19' Long Schedule 40 Solid Aluminum Pipe (SCH40) |
| 3" (2 7/8") | 20' | ACL-PIPE-3-20L-SCH40 | 3" (2 7/8") OD x 20' Long Schedule 40 Solid Aluminum Pipe (SCH40) |
| 3" (2 7/8") | 21' | ACL-PIPE-3-21L-SCH40 | 3" (2 7/8") OD x 21' Long Schedule 40 Solid Aluminum Pipe (SCH40) |
| 3" (2 7/8") | 24' | ACL-PIPE-3-24L-SCH40 | 3" (2 7/8") OD x 24' Long Schedule 40 Solid Aluminum Pipe (SCH40) |
| 3" (2 7/8") | 30' | ACL-PIPE-3-30L-SCH40 | 3" (2 7/8") OD x 30' Long Schedule 40 Solid Aluminum Pipe (SCH40) |
| 3" (2 7/8") | 32' | ACL-PIPE-3-32L-SCH40 | 3" (2 7/8") OD x 32' Long Schedule 40 Solid Aluminum Pipe (SCH40) |
4" OD Schedule 40 Solid Aluminum Pipe (SCH40)
| Outer Diameter | Length | Order # | Description |
| --- | --- | --- | --- |
| 4" | 5' | ACL-PIPE-4-5L-SCH40 | 4" OD x 5' Long Schedule 40 Solid Aluminum Pipe (SCH40) |
| 4" | 6' | ACL-PIPE-4-6L-SCH40 | 4" OD x 6' Long Schedule 40 Solid Aluminum Pipe (SCH40) |
| 4" | 6' 6" | ACL-PIPE-4-66L-SCH40 | 4" OD x 6' 6" Long Schedule 40 Solid Aluminum Pipe (SCH40) |
| 4" | 7' | ACL-PIPE-4-7L-SCH40 | 4" OD x 7' Long Schedule 40 Solid Aluminum Pipe (SCH40) |
| 4" | 8' | ACL-PIPE-4-8L-SCH40 | 4" OD x 8' Long Schedule 40 Solid Aluminum Pipe (SCH40) |
| 4" | 9' | ACL-PIPE-4-9L-SCH40 | 4" OD x 9' Long Schedule 40 Solid Aluminum Pipe (SCH40) |
| 4" | 10' | ACL-PIPE-4-10L-SCH40 | 4" OD x 10' Long Schedule 40 Solid Aluminum Pipe (SCH40) |
| 4" | 10' 6" | ACL-PIPE-4-106L-SCH40 | 4" OD x 10' 6" Long Schedule 40 Solid Aluminum Pipe (SCH40) |
| 4" | 11' | ACL-PIPE-4-11L-SCH40 | 4" OD x 11' Long Schedule 40 Solid Aluminum Pipe (SCH40) |
| 4" | 12' | ACL-PIPE-4-12L-SCH40 | 4" OD x 12' Long Schedule 40 Solid Aluminum Pipe (SCH40) |
| 4" | 13' | ACL-PIPE-4-13L-SCH40 | 4" OD x 13' Long Schedule 40 Solid Aluminum Pipe (SCH40) |
| 4" | 14' | ACL-PIPE-4-14L-SCH40 | 4" OD x 14' Long Schedule 40 Solid Aluminum Pipe (SCH40) |
| 4" | 15' | ACL-PIPE-4-15L-SCH40 | 4" OD x 15' Long Schedule 40 Solid Aluminum Pipe (SCH40) |
| 4" | 16' | ACL-PIPE-4-16L-SCH40 | 4" OD x 16' Long Schedule 40 Solid Aluminum Pipe (SCH40) |
| 4" | 17' | ACL-PIPE-4-17L-SCH40 | 4" OD x 17' Long Schedule 40 Solid Aluminum Pipe (SCH40) |
| 4" | 18' | ACL-PIPE-4-18L-SCH40 | 4" OD x 18' Long Schedule 40 Solid Aluminum Pipe (SCH40) |
| 4" | 19' | ACL-PIPE-4-19L-SCH40 | 4" OD x 19' Long Schedule 40 Solid Aluminum Pipe (SCH40) |
| 4" | 20' | ACL-PIPE-4-20L-SCH40 | 4" OD x 20' Long Schedule 40 Solid Aluminum Pipe (SCH40) |
| 4" | 21' | ACL-PIPE-4-21L-SCH40 | 4" OD x 21' Long Schedule 40 Solid Aluminum Pipe (SCH40) |
| 4" | 24' | ACL-PIPE-4-24L-SCH40 | 4" OD x 24' Long Schedule 40 Solid Aluminum Pipe (SCH40) |
| 4" | 30' | ACL-PIPE-4-30L-SCH40 | 4" OD x 30' Long Schedule 40 Solid Aluminum Pipe (SCH40) |
| 4" | 32' | ACL-PIPE-4-32L-SCH40 | 4" OD x 32' Long Schedule 40 Solid Aluminum Pipe (SCH40) |
6 5/8" Schedule 40 Solid Aluminum Pipe (SCH40)
| Outer Diameter | Length | Order # | Description |
| --- | --- | --- | --- |
| 6 5/8" | 5' | ACL-PIPE-658-5L-SCH40 | 6 5/8" OD x 5' Long Schedule 40 Solid Aluminum Pipe (SCH40) |
| 6 5/8" | 6' | ACL-PIPE-658-6L-SCH40 | 6 5/8" OD x 6' Long Schedule 40 Solid Aluminum Pipe (SCH40) |
| 6 5/8" | 6' 6" | ACL-PIPE-658-66L-SCH40 | 6 5/8" OD x 6' 6" Long Schedule 40 Solid Aluminum Pipe (SCH40) |
| 6 5/8" | 7' | ACL-PIPE-658-7L-SCH40 | 6 5/8" OD x 7' Long Schedule 40 Solid Aluminum Pipe (SCH40) |
| 6 5/8" | 8' | ACL-PIPE-658-8L-SCH40 | 6 5/8" OD x 8' Long Schedule 40 Solid Aluminum Pipe (SCH40) |
| 6 5/8" | 9' | ACL-PIPE-658-9L-SCH40 | 6 5/8" OD x 9' Long Schedule 40 Solid Aluminum Pipe (SCH40) |
| 6 5/8" | 10' | ACL-PIPE-658-10L-SCH40 | 6 5/8" OD x 10' Long Schedule 40 Solid Aluminum Pipe (SCH40) |
| 6 5/8" | 10' 6" | ACL-PIPE-658-106L-SCH40 | 6 5/8" OD x 10' 6" Long Schedule 40 Solid Aluminum Pipe (SCH40) |
| 6 5/8" | 11' | ACL-PIPE-658-11L-SCH40 | 6 5/8" OD x 11' Long Schedule 40 Solid Aluminum Pipe (SCH40) |
| 6 5/8" | 12' | ACL-PIPE-658-12L-SCH40 | 6 5/8" OD x 12' Long Schedule 40 Solid Aluminum Pipe (SCH40) |
| 6 5/8" | 13' | ACL-PIPE-658-13L-SCH40 | 6 5/8" OD x 13' Long Schedule 40 Solid Aluminum Pipe (SCH40) |
| 6 5/8" | 14' | ACL-PIPE-658-14L-SCH40 | 6 5/8" OD x 14' Long Schedule 40 Solid Aluminum Pipe (SCH40) |
| 6 5/8" | 15' | ACL-PIPE-658-15L-SCH40 | 6 5/8" OD x 15' Long Schedule 40 Solid Aluminum Pipe (SCH40) |
| 6 5/8" | 16' | ACL-PIPE-658-16L-SCH40 | 6 5/8" OD x 16' Long Schedule 40 Solid Aluminum Pipe (SCH40) |
| 6 5/8" | 17' | ACL-PIPE-658-17L-SCH40 | 6 5/8" OD x 17' Long Schedule 40 Solid Aluminum Pipe (SCH40) |
| 6 5/8" | 18' | ACL-PIPE-658-18L-SCH40 | 6 5/8" OD x 18' Long Schedule 40 Solid Aluminum Pipe (SCH40) |
| 6 5/8" | 19' | ACL-PIPE-658-19L-SCH40 | 6 5/8" OD x 19' Long Schedule 40 Solid Aluminum Pipe (SCH40) |
| 6 5/8" | 20' | ACL-PIPE-658-20L-SCH40 | 6 5/8" OD x 20' Long Schedule 40 Solid Aluminum Pipe (SCH40) |
| 6 5/8" | 21' | ACL-PIPE-658-21L-SCH40 | 6 5/8" OD x 21' Long Schedule 40 Solid Aluminum Pipe (SCH40) |
| 6 5/8" | 24' | ACL-PIPE-658-24L-SCH40 | 6 5/8" OD x 24' Long Schedule 40 Solid Aluminum Pipe (SCH40) |
| 6 5/8" | 30' | ACL-PIPE-658-30L-SCH40 | 6 5/8" OD x 30' Long Schedule 40 Solid Aluminum Pipe (SCH40) |
| 6 5/8" | 32' | ACL-PIPE-658-32L-SCH40 | 6 5/8" OD x 32' Long Schedule 40 Solid Aluminum Pipe (SCH40) |