The Benefits Of Aluminum Chain Link Fencing
What is Aluminum Chain Link Fence?
Chain Link Fence, also known as cyclone fence, is one of the most popular and practical fence styles for both light residential and commercial properties. Formed by weaving a series of spirals together to make a diamond shape pattern, chain link fence systems contain a aluminum pipe framework of top rails, line posts, and terminal posts with many different fittings to secure the components of the fence. These fittings are critical to starting and stopping the chain link fence sections, along with helping attach the mesh fabric to the framework.

A residential aluminum chain link fence is economical for perimeter protection and can be installed just as a galvanized chain link fence. There are two methods for creating an aluminum chain link fence: using galvanized steel fence parts for the framework paired with aluminum chain link fence fabric (mesh) or using all aluminum chain link fence parts with aluminum mesh fabric. It is common to see galvanized steel framework with aluminum fence accessories like shiny aluminum post caps, however, it is highly recommended to choose all solid aluminum chain link fences for a long-lasting and corrosion-resistant fence system.
Aluminized Fence v. Galvanized Steel Fence
| Alumimnum | Galvanized Steel |
| --- | --- |
| Carbon Steel Wire Is Immersed In Molten Aluminum | Carbon Steel Wire Is Immersed In Molten Zinc |
| Will Not Rust Or Corrode | Will Rust And Corrode Over Time |
| Ideal For Humid, Beach And Ocean Areas | Will Quickly Rust In High Salt Areas |
| Application: Cross-Sea Bridges, Coastlines, Dams, Islands | Application: Residential, Commercial, And Industrial Inland Areas |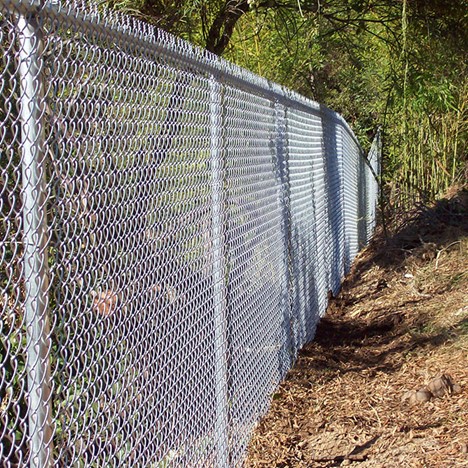 Benefits Of All Aluminum Chain Link Fence
Low Maintenance Fence Option
Increased Thickness Of Wire Gauge
Smooth Shiny Surface Always Looks New
Provides More Visibility To Protect Against Hiding Intruders
Residential, Recreational, Commercial & Industrial Applications
Allows Sunlight To Shine Through, Unlike Vinyl Or Wood Privacy Fence
Water-resistent, Rust Resistant, Corrosion Resistant Aluminum Properties
Economic Perimeter Protection, Cheaper Than Wood or Vinyl Fence Options
Long Lifespan (Average 25 Years Or Longer) - Especially If All Parts Are Aluminum
Difficult To Climb Mesh Fabric Enhances Safety By Preventing Intruders From Jumping Over Fence
Exceptional Properties Of Aluminum Make It Suitable For Coastal Areas, As Well As Military Applications
Special Manufacturing Of Aluminum Make It Suitable For Electrical / Conductive Security Fencing & Industrial Scientific Magentic Areas
All Solid Aluminum Chain Link Fence refers to the fact that all fittings are constructed of aluminum, and the chain link mesh fabric is also aluminum. In order to see the true proprietary benefits of an Aluminum Chain Link Fence System, all parts of the fence should have the same material.
Using all Aluminum frameworks (tubing, rail, mesh, bands, clamps, etc.) does make a difference in the entire fence's ability to resist rust and corrosion from the elements.
Aluminum material has a smooth and shiny finish, the material differences are easy to spot on any chain link fence, especially if galvanized parts were used and an aluminum mesh was installed. It is common to see galvanized steel framework with aluminum post caps or other framework and accessories; however, over time, the galvanized steel framework will rust and corrode while the aluminum parts of the fence remain smooth with a shiny silver finish.
Understanding Chain Link Fence Mesh Gauges
Chain Link Fence Fabric comprises a steel wire that varies in gauge size. To find the gauge size of a wire, measure and note the outer diameter of the wire. Common wire gauge sizes for aluminum chain link fence mesh range from 6 Gauge to 9 Gauge, while 9 Gauge is the most common wire size for residential and commercial chain link fences. The higher the gauge size, the thinner the wire is. 6 Gauge wire is considerably thicker and used primarily for high-security, commercial applications. Another way to think about gauge size is that the smaller the gauge number on any of the components, the more steel was used to make it. A huge benefit to aluminum chain link fence parts and fabric is the added thickness from the aluminum that protects it from the outdoors and adds strength to the wire itself.
Gauge Size Examples:
6 gauge (.192″)
9 gauge (.148″)
11 gauge (.120″)
11-1/2 gauge (.113″)
Get Familiar With Aluminum Chain Link Fence Basic Fittings
Click The Fence Fitting To Read More About The Part:
More Resources
Before purchasing, installing, or upgrading a new aluminum chain link fence system, it's helpful to understand the components of a chain link fence as well as the step-by-step process of installing a fence system. Read our How To Install A Chain Link Fence Guide for more information on assembling your new fence or reach out to one of our fence experts for help putting together your chain link fence order.